Reduce, Reuse, Recycle Content
Infographic: Conserve Time. Reuse Content.
One reason operational content management is difficult is the large amount of content that multiple groups in your airline are responsible for creating. And the struggle is more intense if you're adding AOCs, adding fleets, or expanding to new destinations. Reusing content is an effective way to measurably increase authoring efficiency and gain strategic advantages. Just check out the infographic for the specifics. View infographic.



4 Ways to Start Reusing Content in 2020
Every new year brings a fresh start, which explains why New Year's resolutions are so popular. If you haven't decided on a resolution yet, consider resolving to create manual content more efficiently by reusing content that already exists. As our own nod to getting things done fast, the tips in this article will quickly explain ways you can start reusing content. Read more.



Quiz: Updating Manuals Harder than it Should Be?
Find out whether your airline's use of content is enabling the most efficiency possible and how you're doing compared to other airlines. Your results will also include actionable ways to maximize authoring efficiency that impact the entire operation. Take the quiz!
The Future of Compliance Improves Operations
4 Tips for easy, efficient employee compliance

If you're anything like most airlines, compliance is just part of life – one that's often viewed as just a way to stay out of trouble. But by improving the way you execute your everyday compliance tasks, you can also improve your operations, getting more value from work you're already doing. Read more
The Secret to eliminating audit prep for compliant operational content
It's not a secret: Operational compliance is time and resource consuming. It takes months for the airline and operation to compile data that satisfies a regulator's request to see where standards are answered in the manuals.

So what's the "secret" to not just reducing, but eliminating, this drain on your operation? It's to take a new approach: Instead of preparing for audits when they happen, enable your airline to always be audit-ready. Read more
ON-DEMAND WEBINAR

The approach to COMPLIANCE that improves operations across the airline
If you'd like more information about any of the topics we cover, contact us today.
---
Missed Our Last Article Series?
Catch up on actionable tips, tricks, and ideas on previously covered topics.
The Power Of Unified Document Management
The Power of Unified Document Management article series will explore how a single, integrated solution for content management and distribution addresses common Tech Pubs challenges and streamlines the experience for all the stakeholders involved.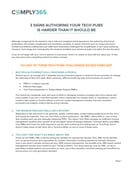 3 SIGNS AUTHORING YOUR TECH PUBS IS HARDER THAN IT SHOULD BE
Do any of these Tech Pubs challenges sound familiar?

1. Multiple Authoring Tools, Processes & People
Airlines rely on an average of 5-7 disparate and disconnected systems or external service providers to manage the authoring of their tech pubs... Read more
increasing operational efficiency by streamlining the manual revision process
If your network of people and processes to author tech pubs is complex, so is the IT footprint of the many disparate tools and systems that support them. So how do you simplify or even centralize your tech pub authoring? And can you reduce technology needs while improving safety and efficiency?... Read more
EFB End User Experience: How and Why to Improve It
The following article series explains why the overall EFB end user experience matters today - and how you can enhance it by improving data availability.
DRIVING THE VALUE OF EFB: DATA AVAILABILITY FOR YOUR USERS
Watch the on-demand webinar or read the companion ebook.
| | |
| --- | --- |
| | |
| | |